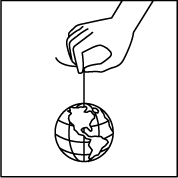 Involved in frequency marketing? If so, your job is to keep a particular business in front of one or more target market audiences using a variety of tools, including direct mail. Your market audience's awareness and responsiveness depend on:
The frequency of your mailings (exposure)
The impact of your marketing message
And the quality of your list
Success depends on maintaining a consistent mailing schedule, a consistent (and thus recognizable) image, and a consistent message.
Plan to send postcards, direct mail letters, or newsletters? Will you use a combination of pieces? Whatever your chosen strategy, Printing Services can help you make this complex process simpler and more efficient.
Our digital and offset printing assets make it possible for you to create high quality, high impact messages using either black and white graphics or color graphics on a wide range of paper stocks and formats.
What's more, we can help plan the entire campaign to achieve maximum production and scheduling efficiencies. We provide response tracking, too.
Indeed, we offer a range of services that simplify your frequency marketing strategy efforts:
Looking For A Solution?
When combined with Print-Services.com Online' many other in-house capabilities, our frequency marketing experience can help you create exciting new marketing opportunities. Want proof? Review our Services, read our Case Studies, or Contact Us.
We amplify our clients' business efficiency.
"It takes approximately nine mailing pieces to a single prospect to go through various phases of prospect conversion … We really have to consider mailing upwards of three times that amount, or 27 pieces, since two out of three will most likely never be read or even seen."
New Medication Helps Deal With Stubborn Clients
Quick Printing Magazine September, 2014