The power of frequency mailing stands on three legs:
List Quality
Mailing Frequency
Overall Impact
Setting aside the first two factors for the moment, the question remains: How can you increase the impact of your mailing pieces? Add color. Color turns drab mailings into statements. It turns heads and opens eyes. Color can even support your brand marketing efforts. What major corporation is also known as "Big Blue?"
Using a variety of techniques, Printing Services Online can help you make color a powerful and cost-effective element in your mailings. For example, using offset printing, we can print large runs of color blanks or "shells." Then, we customize the shells with black ink text or graphics on our digital presses. The result: cost-efficient, high-resolution color graphics combined with equally cost-efficient, custom, digital printing! This solution can be a very attractive alternative to four-color digital printing for print runs of sufficient size.
Study after study indicates that adding color to your marketing pieces stimulates audience interest. Printing Services Online can help you take advantage of the power of color with its state-of-the-art offset press. We regularly produce single- to six-color pieces for a wide range of clients.
Frequency marketing materials printed in color include:
Booklets
Brochures
Envelopes
Inserts
Letters
Newsletters
Postcards
Press Releases
Surveys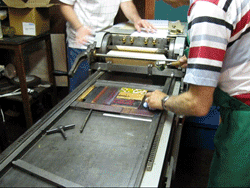 Looking For A Solution?
When combined with Print-Services.com many other in-house capabilities, our frequency marketing plan with color experience can help you create exciting new marketing opportunities. Want proof? Review Variable Data Printing, read Mailing and Distribution, or investigate our Response Processing capability.
For additional information, review our Services and Case Studies, or Contact Us.
We amplify our clients' business efficiency.