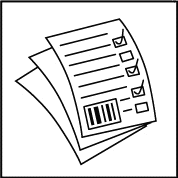 Printing Forms
Surveys and printing forms can play a critical role in the success of business intelligence efforts. When properly conceived and produced, they reduce bureaucracy, increase efficiency, and add to the knowledge base. Printing Services Online offers organizations in search of experienced survey and forms print services online the specialized expertise that can make your efforts more efficient and productive.
Our digital and offset printing assets make it possible for you to create high quality, high value content with black and white graphics or color graphics on a wide range of paper stocks and formats. Personalization (the addition of the recipient's name and, possibly, address) can turn surveys and forms into direct communications. Bar coding and serialization can simplify tracking and database maintenance. Database publishing (100 percent variable printing with black ink), which allows you to vary content by individual, can create unique content for each targeted group or individual.
Looking For A Solution?
When combined with Printing Services Online' many other in-house capabilities, our surveys and forms handling expertise (including Mailing & Distribution and Response Processing) can free you to focus on what you do best. Want proof? Review our Services, read our Case Studies, or Contact Us.
We amplify our clients' business efficiency.