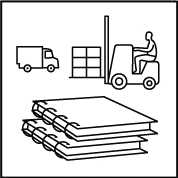 Turnkey Services
Manufacturing is your core business. It's ours, too. We've learned that keeping total control of the manufacturing (pre-press, offset, digital, or variable printing plus in-house bindery, mailing list management, mailing, shipping or fulfillment) process can increase print production flexibility, making it easier to maintain quality standards and control costs. The result: Our clients benefit from quick, efficient, full service printing programs, enhancing their business and production agility.
That's why Printing Services Online maintains turnkey services control of virtually every aspect our document manufacturing process. We've integrated printing, post press finishing, and sophisticated distribution processes under one roof:
Our production control and flexibility enables us to make and meet our delivery commitments. Period.
Because we're not dependent on sub-contractors, we can deliver seamless service on almost all projects. Our clients love that we're even more demanding than they are when it comes to maintaining quality and meeting deadlines.
Looking For A Solution?
Our goal is to simplify your life and improve your bottom line. You want a proven track record of accomplishment? We've got it. Want proof? Review our Services, read our Case Studies, or Contact Us.
We amplify our clients' business efficiency.