Variable Data Printing in Color
Want to add the power of color to your variable data printed documents? Online Printing Services can help. For example, using offset printing, we can create high-impact color blanks (also called "shells"). Then we custom print each shell in black ink on our digital presses using your database. The result: cost-efficient, high-resolution color graphics combined with equally cost-efficient, variable data printing!
This solution can be a very attractive alternative to four-color digital printing. In fact, we use this very method to variably print the four-color covers of the newsletter for the Arizona Direct Marketing Association (ADMA). For another client, we print special surveys that are Variable Data Printing in Color coded to assist recipients in filling out the check off boxes. Each survey includes a live, personalized check and variably printed bar codes that simplify the process of tracking the returned surveys.
What's more, we provide a wide range of ancillary support services: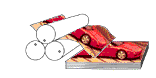 Looking For A Solution?
When combined with Printing Services Online many other in-house capabilities, our experience with black ink variable printing can help you create exciting new marketing opportunities. Want proof? Review our Services, read our Case Studies, or Contact Us.
We amplify our clients' business efficiency.